Antonio Clemente was born on 15th February, 1898 in district Sanità n. 109 in via Santa Maria Antesaecula, Naples.
He was born by unwed mother Anna Clemente.According to a legend started by Totò himself his father was Giuseppe De Curtis son of marquis De Curtis, who always opposed to the marriage between his noble son and the beautiful town girl.
The exuberant Totò grew up on the streets of Naples which he prefered better than going to school.
When he finshed elementary school, he was sent to a bording-school where he didn't even graduate to recieve a high school diploma.
While attending the boarding-school, his nose got broken by a teacher that was boxing playfuly with him.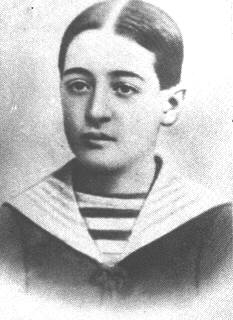 While working various jobs, he approached the theater as a simple spectator. Some comic actors affacinated him, which he imitated perfectly.
In 1913/1914 he debuted in one of many neapolitan theaters with a pseudonym, Clement.
It is the beginning of the war, he enlist as a volunteer, later on he was so scared; he pretend an heart attack and will stay behind the front line. However he will know the hardness and the non sense of the military life.
When the war is finished, he backs on the theatre. He start to doing the "banda" with people such a Eduardo and Peppino De Filippo, Cesare Bixio.
Some of them doing prose work, some composing songs and somebody else has been dedicate to the variety show.
Antonio follow this way and he start to gain some notoriety.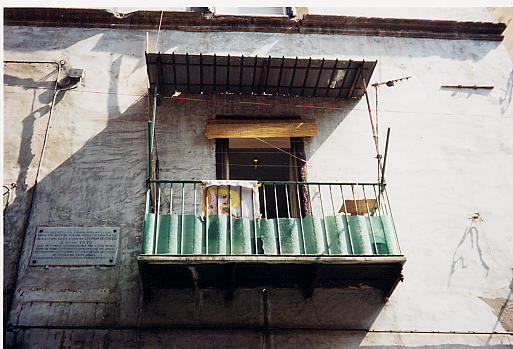 Such a combination, his father the Marquis set about a new activity as a theatre's agent.
The new job give to him an economic independence from his family furthermore he back to approach Anna again.
On 1921, Giuseppe's father died and Giuseppe get married with Anna. Antonio became Antonio De Curtis (however the official recognition will be on 1928).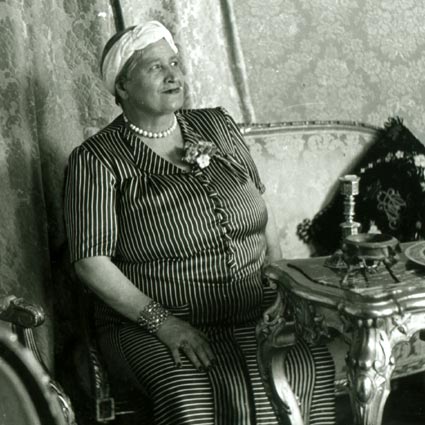 Anna and Giuseppe move on to Rome and Antonio with them. Antonio life will get a radical change.
After work in several small Roman's theatres he reach to Jovinelli.
Very quickly he became a show star he will going to travel "en tournee" all over the Italy.
The poor years of his life they are completely finished.
His specific character is already consolidated: is the disarticulate puppet, with the bowler, tight out of all proportion, low shoe and colourised sock, personage which will be kept for all life.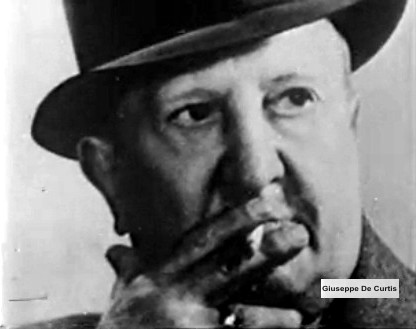 Toto' is crazy fro women and women are crazy for him.
It was famous the sofa that usually he put on the fitting room for his guests.
Then Toto' meet Liliana Castagnola a café-cantant's famous singer, a woman with a melancholic and tragic destiny.
She was a luring woman that fall head over hells for him; she ask Toto' to partnered with but, when he refused she committed a suicide on 3rd March 1931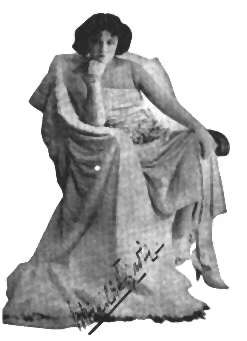 Remorse's posthumous gather, Toto' lay to rest Liliana on the De Curtis family grave.
After some years he will give the lover's name to his daughter. Few months later in Florence, after the Castagnola's death, Toto' meet Diana Bandini Lucchesini Rogliani a sixteen years old Florentine girl, who was been to watch the Toto's show.
She didn't find Toto' ugly, clownish or "rolled into one bizarre way"; she felt in love for him and she run away from home to reach him.
They are so happy, in 1933 they get a baby girl, in 1935 the couple get a married.
Then, the actor's pathologic jalousie explode and became the reason in order to ask for override the marriage in Hungary (it will be ratified in Italy on 1940).
However, despite on that, the family, in someway, stay still join until the years '50.
In the season 1932/33 Toto' set up his own company, they are the "avanspettacolo" Toto's golden age.
People love him, and even the critic and intellectual people grown on him.
It is the cinema growth and the set call him: on 1937 he acting "Fermo con le mani" and two years after "Animali pazzi".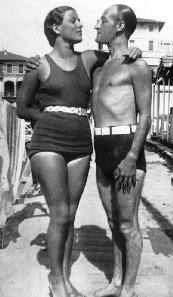 Toto' always was living with the psychological complex of his origins as a illegitimate child and with a never ending desire of noblesse in his blood.
About his parentage from Giuseppe De Curtis, has been mentioned that it was uncertain, may be build from himself behind (how Diana Rogliani use to say).
Already in the far 1933, the marquis Francesco Maria Focas has been adopt him, and give to Toto' his name in return for a life interest.
When the marquis death, Toto will became empower to use the herald title which for long time his waiting for.
This conquest will arrive after several years of legal argument which has been carry out by the actor with obstinacy.
From 1945 he will get the right to be call:
Antonio Griffo Focas Flavio Angelo, Ducas Comneno Porfirogenito Gagliardi De Curtis di Bisanzio, Altezza Imperiale, Conte Palatino, Cavaliere del Sacro Romano Impero, esarca di Ravenna, duca di Macedonia e Illiria, principe di Costantinopoli, di Cicilia, di Tessaglia, di Ponto, di Moldavia, di Dardania, del Peloponneso, conte di Cipro e di Epiro, conte e duca di Drivasto e di Duraz.
The beginning of the years '50 has been start with success, price (he get a Nastro d' Argento for the film Guardie e Ladri) but, later on, how Toto' use to say, he get a double stab in the back from the ex-wife Diana, who stay to rest all time, and the daughter Liliana that couple with Gianni Buffardi, films director Carlo Ludovico Bragaglia' stepson, a man that Toto' didn't fancy ( however he will give to the actor two grandsons and he will became the Toto's producer for some films).
Toto' was alright the Liliana's marriage had a short life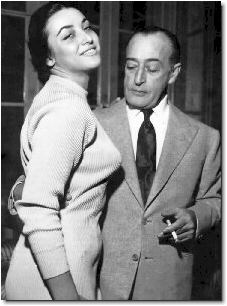 As usual in the actor life after the cheerless will follow an happy moment. In the 1952 Toto' meet Franca Faldini once again a very young woman (she was 21 years old) and Toto' felt in love.
Franca became Toto' fiancé but the couple, even inseparable, never get married.
Toto' death 15th April 1967 around half past three in the morning at his home in Rome, at the time he use to go to sleep
In seven hours Toto' received several hearts attack which suppress him. If the actor was survival at the last one, probably he go to be paralysed, dumb and completely blind.
In part Toto' was already in this way. He get the first heart attack just when he celebrate the result of the electrocardiogram which, a couple of days before, the actor did it following an illness.
The heart, just the emotional heart play a dirty tick for the actor. A yellow-bellied betrayal.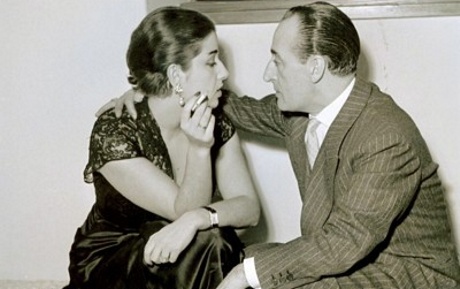 Every six months Toto' use to make a check-up and the doctor gush over his heart; they use to said about is heat that was a excellent cardiac muscle, like an athlete, simple perfect.
Perhaps they had been the many cigarettes, the many daily coffees, goodness knows, however not if never it would be waited for it, own from he.
The 17th April at 11:20 am he was carried in the Sant' Eugenio church in Viale Delle Belle Arti. On the top of the coffin they was the bowler witch the actor started his career and a red carnation.
The ceremony was just limited and at a simple blessing because he wasn't married with Franca Faldini furthermore was difficult for the clerical authority to deal with.
Some images of the funerals of Totò

In the Basilica del Carmine Maggiore (Naples) they attended it approximately shakes it persons, while others one hundred thousand paused in the immense before public square. Along applause it greeted for l' last Totò time, then the sound of lives some.
Toto' wasn't in his life a particularly religious man but, in his way, he use to believe in God. He believed in the world's creator and he never stopped to admire that; he didn't accept a bad languages about it.
He didn't believe in the kingdom came that people teaching you with the prayer, vice versa he said that the even and the hell are both of them in this world.
From the kingdom came, nobody was back to tell him how it was.
Dates and biography in brief

1898 15 February: in Naples, in Via S.Maria Antesecoula, in the Sanità district, Antonio Clemente is born, son of Anna Clemente and of N.N. . He grows up in his area, known as Totò, the name that was to become his stage name. In his private life he has always wanted to be called Antonio.

1915 Antonio initially does his military service in the Reggimento di Fanteria in Livorno, but he spends a good part of this time of his conscription in hospital for fake diseases. Between one stay or another in hospital, Totò endures the prejudices of a corporal who will make him to coin that famous phrase: Siamo uomini o caporali?

1916 Totò is given a job on probation without pay, by the Company of Umberto Capece that manages the theatre Salone Elena's: because he asked for reimbursement of his tram fare, he was fired immediately.

1917 Totò introduces himself to the Manager, Peppe Jovinelli, holder of the homonym roman variety theatre (founded in 1909), he suggests reproducing the repertoire of a famous actor "eccentric fantasist" Gustavo De Marco with which the manager had broken his relationship. Therefore he successfully performs "Il bel Ciccillo", "Se fossi ricco", "Paraguay".

1920 He works at Orfeo's theatre in Naples. His most successful work is inspired by a song, famous at that time, titled "Vipera" which he transformed in "Vicolo".

1922 Through his barber Pasqualino, Totò succeeds to enrol in the most important roman variety theatre, Sala Umberto's theatre. From this moment the rise of Totò came first in variety and then revues.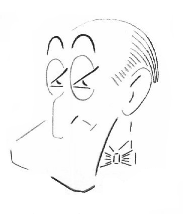 1923-25 He performs in the Triaton and San Martino theatres in Milano and at the Maffei in Turin, having a repertoire of "Cane e gatto", "Il gagà" (revisited later in one of his revues)," Biondo corsaro", "Otello".

1924 His mother Anna Clemente and Marquis Giuseppe De Curtis (who for family reasons had previously been unable to marry Anna) get married. He then became the legitimate father to his son, and after accurate research, he assumes his father's aristocratic title of Angelo Ducas Commeno De Curtis. From documents in the town hall in Naples he cancels the name by which he was known, for the society, Antonio Clemente, of Anna Clemente and N.N.

1926 He performs alongside the most famous soubrette Isa Bluettein in the Maresca's company; taking part in the revues "Madama Follia", " Il paradiso delle donne", "Girotondo", "Mille e una donna".

1928 Definitive dedication to Teatro Nuovo of the Molinari's company: Totò performs, in the leading role in the revues and operettas "Un turco napoletano", "O' e' Rusinella","Metteteve a ffa' l'ammore cu' mme", "I nipoti del sindaco", "Na creatura sperduta", "Bacco Tabacco e Venere", but above all "Messalina" (where he played the role of Caio Silio) and "I tre moschettieri" (where he played D'Artagnan with a coat-hanger as sword and a capon's feather on his bowler).

1929-32 Always under the direction of the Teatro Nuovo in Napoli, Totò signed up to the Cabiria Company and then newly arrived from the Maresca Company, on 3rd December 1929 Totò begins a passionate relationship with the Neapolitan soubrette Liliana Castagnola, at that time very famous, on 3rd march 1930, believing that Totò wanted to leave her, she killed herself by taking an overdose of sleeping pills. Totò was very upset. Liliana Castagnola rests in the family grave of the actor, and instead of giving his daughter the name of his paternal grandmother, as was tradition, he called her Liliana.

1933-40 Totò becomes head comedian of his own formation of variety and in his repertoire we find: Era lui...si si, era lei...no no, La banda delle bambole bionde, Il mondo è tuo, Quelli della mano verde, 50 milioni, c'è da impazzire, Belle o brutte purchè sian donne mi piaccion tutte, La vergine indiana, I tre moschettieri, Dei due chi sarà?, Fra moglie e marito la suocera e il dito, Se quell'evaso fossi io.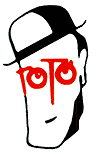 1935 15th April in Rome, Totò marries Diana Rogliani. From their union Liliana is born.

1937-66 In 1937 Totò makes his first film "Fermo con le mani" of Gero Zambuto. From that year until 1967 he makes 97 films seen by 300 million people, a record that has no equal in the history of Italian cinema. In 1938 he makes his second film with Carlo Ludovico Bragaglia "Animali pazzi", but it is with the director Amleto Palermi, in the film "San Giovanni Decollato", taken from a Nino Martoglio comedy, that Totò shows the measure of his possibilities as a cinematographic comic actor. The other actors in this film with Totò are Titina De Filippo, Silvana Jachino and Franco Coop.

1941-48 In the review theatre he forms the Totò-Michele Galdieri society, perhaps the best Italian writer of variety shows. The definity success is with "Quando meno te l'aspetti" (1941), "Volumineide" (1942), "Orlando curioso" (1942-43), "Che ti sei messo in testa" (1944), "Con un palmo di naso" (interpreted, like other revues, with Anna Magnani in 1944), "C'era una volta il mondo" (1947), "Bada che ti mangio" (1948). In 1946-47 Totò performs in the revue "Ma se ci toccano nel nostro debole" of Nelli, Mangini, Garinei e Giovannini.

1948 Totò takes the leading role in two comic's films that brings him immense popularity and becomes known as the champion of the takings: "Totò al giro d'Italia" (the first film that, has the name of Totò in the title, that will then be repeated in others 33 films) and "Fifa e Arena".

1949-51 In these three years Totò makes 16 films, from "L'Imperatore di Capri" to "Totò cerca casa", "Totò le mokò", "47 morto che parla", "Totò sceicco", until "Guardie e ladri" of Steno and Monicelli, made together with Aldo Fabrizi, that earned him his first <Nastro d'argento> from the Italian National Cinematographic Journalists.

1952-56 Continue the intense cinematographic activity of Totò: of his best films we cite "Totò a colori", "Un turco napoletano", "Miseria e nobiltà", "L'oro di Napoli" of Vittorio De Sica, "Siamo uomini o caporali?".

1957 Totò comes down with a serious form of retinal haemorrhage that started during a tournèe "A prescindere", that reduces his sight a lot. But he does not lose heart and continues to make films of great success like "I soliti ignoti", "Totò nella luna", "La cambiale", "I tartassati", "Risate di gioia" with Anna Magnani, "Il comandante", "Operazione San Gennaro". From the beginning of the eye disease until 1967, Totò makes another 43 films.
1961 A board of journalists assign the Saint Vincent the <Grolla d'oro> with the motivation: "To the merit of the cinema, for many years having honored inspired and the genius of the theatre of the art".

1966 The National Union of Cinematographic Journalists gave him the second <Nastro d'argento> for his interpretation of the film "Uccellacci e uccellini" of Pier Paolo Pasolini. For this film Totò has a special mention at the Festival of Cannes. Pratically blind, but always full of love for life, Totò participates in the film "Capriccio all'italiana", in the episodes "Il mostro" and "Che cosa sono le nuvole" of Pier Paolo Pasolini. But on 14th April he interrupts them working and on the night of Saturday 15th he suffered a serious coronary.

1967 So comes to an end the earthly life of one of the greatest variety actors, of revues and of cinema, for many he is the greatest. The television continually shows his films, followed and loved by young people, confirmation of his extraordinary human art that renders him a unique Italian actor, still present 33 years from his death. Totò composed a book of poems " 'A livella" and numerous songs "C'aggia fa'!...C'aggia di!", "Miss mia cara miss", "Nemica", "Core analfabeta", "Povero core mio" and naturally "Malafemmena", perhaps the most famous and beautiful.
---