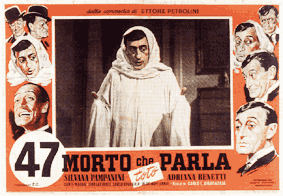 Film in B/N durata 85 min. - Incasso lire 450.000.000 (valore attuale € 15.754.122,23) Spettatori 4.314.000
"47 Dead which talks" 1950 by Carlo Ludovico Bragaglia. Subject: from the homonimous comedy by Ettore Petrolini; screen-play: Age, Scaerpelli, Metz, Marchesi (and Nicola Manzari, Bragaglia); Starring: TotÚ (the baron Antonio Paletti), Silvana Pampanini, Adriana Benetti, Aroldo Tieri, Eduardo Passarelli, Riccardo Billi, Castellani, Dante Maggio, Carlo Croccolo; Production: FC.
Starring: TotÚ (barone Antonio Peletti), Silvana Pampanini (Marion), Adriana Benetti (Rosetta), Eduardo Passarelli (il farmacista), Mario Castellani (Bertrand De Tassiny), Dante Maggio (Dante Cartoni), Carlo Croccolo (Gondrano), Arturo Bragaglia (il sindaco), Tina Lattanzi (moglie del sindaco), Aldo Bufi Landi (Gastone), Gildo Bocci (il macellaio), Franco Pucci (il medico), Danielle Benson (la moglie del farmacista).
Plot: The baron Peletti has a loot hidden under the floor. One half of this money is due to his son Gastone, the other one to the Town Hall. The mayor and his escorts plot and by fraud give him a sleeping pill tricking him into believing it is a poison. When awoke, TotÚ believes to be dead and he reveals the loot hiding place. As soon as the baron notices the deceit, pretends to be a ghost to scare the mayor and to take his vengeance.
Review: From the grotesque cutting of Petrolini remains just the starring travel in the netherworld when he believes to be dead. Matter treated a lot of times in the popular theatre and, although with some vulgarity, less vulgar than those ones in other movies to whom TotÚ gave the name and the luck. This time it is a movie acted from beginning to end; so that TotÚ doesn't result just a puppet, but a good actor. Arturo Lanocita, "Il Nuovo Corriere della Sera", Milan, the 27th of December 1950.

Directed by Carlo Ludovico Bragaglia with driving awareness and articulated nimbleness, this movie runs away breezily following the loot and the baron's misadventures; the baron that, impersonated by an incomparable TotÚ, finds the way to amuse with his unspeakable adventures. Ermanno Contini, "Il Messaggero', Rome, the 6th of January 1951.