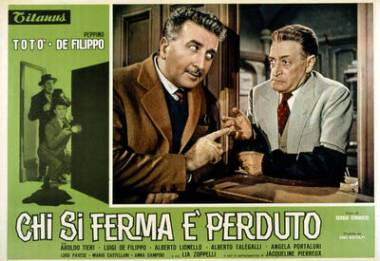 "Who stops is lost" 1960 by Sergio Corbucci. Subject: Mario Guerra, Luciano Martino; screen-play: Bruno Corbucci, Giovanni Grimaldi, Dino De Palma; starring: TotÚ (Antonio Guardialavecchia), Peppino De Filippo, Alberto Lionello, Aroldo Tieri, Jacqueline Pierreux, Luigi Pavese, Castellani, Anna Campori, Alberto Talegalli, Pietro De Vico, production : Bistolfi.
Plot: The two employees Antonio and Peppino in years work in the same company but they are unable to have a successful career as opposed by their treacherous office manager, Mr Santoro. When he suddenly dies, their hope revives, but in the same time the anxiety to get a promotion by the inspector coming from Rome, makes them enemies. Every one of them does the impossible on one's own to gain the inspector sympathy, but he isn't that one sent from Rome but his namesake. The sensational developments and the equivocal multiply until the final one: the two enemies are sent to Sardinia and their job is assigned to their younger colleague.
Film completo: Chi si ferma Ť perduto
Review: It seems that the script-writers wrote 6 several scripts before TotÚ was pleased with their work. As usual the duets between TotÚ and Peppino are exhilarating. Among the improvisations of TotÚ is great Ms Zoppelli courtship, when to her words "The rest is silence", he begins by singing the military "Silence" and Ms Zoppelli can be hanging round him very well.
Valentino De Carlo wrote: "TotÚ and Peppino again together, but this time you laugh. At least the script deserves to show again old things with a grace that is unknown by our not really important comic movies: TotÚ and Peppino are ready to find also the smallest pretext to play with taste". And Pietro Bianchi: [..] "Who stops is lost" belongs to the easy trend expected and a little vulgar of our facetious production. Some verbal invention, a great interpretation of the couple TotÚ and Peppino aren't enough to invite an audience of taste to an honest fun. It's always the same old story of horns, poverty, qui pro quo [..]".