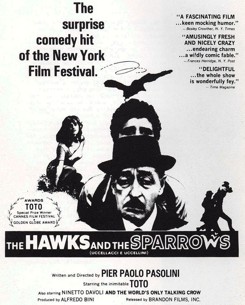 "The Hawks and the Sparrows" 1966 of Pier Paolo Pasolini. Director Pier Paolo Pasolini. Subject and screenplay by Pasolini Starring: Totò (Totò Innocenti e fra' Ciccillo), Ninetto Davoli, Femi Benussi, Umberto Bevilacqua, Renato Capogna, Rossana Ghirò, Alfredo Leggi, Flaminia Siciliano. Production Bini for Arcofilm.
Plot: A father and a son (Ninetto and Toto') in their surreal innocence walk without a precise destination, talking to each other a thousand things and being astonished by nothing, even when they encounter a talking crow that claims to be the son of the doubt and consciousness. The crow tells them the story of Friar Ciccillo and Friar Ninetto who preached to the birds, trying to convert them to evangelical hawks. In vain. The hawks, according to their intuition, devour the sparrows and perplexities of Friar Ciccillo. Saint Francis invites you to start all over again. Returning to be themselves, father and son, behave from time to time by hawks and sparrows, continuing their journey without destination. At the end they will kill the crow for being annoying, with its air knowing everything and they will eat the crow.
Film completo: Uccellacci e uccellini
Review: Pier Paolo Pasolini, Italian Masterpieces, The Ark publishing company "Unity", in May 1995. I never "give birth" to a film so disarmed, fragile and delicate as Uccellacci e uccellini, (Hawks & Sparrows) not only does not resemble any of my earlier films, but is not similar to any other film. I am not speaking of his originality, it would be foolishly presumptuous, but its formula, which is the fable with its hidden meaning. The surrealism of my film has little to do with historical surrealism is basically the surrealism of tales.
This movie wanted to be conceived and executed lightly, under the sign of Pardon Air "Magic Flute" is actually due to a state of profound melancholy mood, so I could not believe the reality of the comic.

The horrific ideology underlying bitterness to the film (the end of a period of our history) has finished with perhaps prevail. Never have chosen a theme for a film so difficult subject: the crisis of Marxism and of the resistance in the fifties, poetically placed before the death of Togliatti, lived and suffered by a Marxist which is not willing to believe that Marxism is finished (good crow says: "I am not crying about the end of my ideas, because surely someone else to take over my flag and bring forward! I am crying about myself ").
I wrote the script taking a crow Marxist, but not quite yet freed from anarchist crow, independent, sweet and true. At this point, the crow has become autobiographical, a kind of irregular metaphor for the author.

Totò and Ninetto instead represent innocent Italians who are around us, who are not involved in the story, who are acquiring the first jota of conscience: this encounter when Marxism in the appearance of a crow.

The presence of Toto and Ninetto in this film is the fruit of a precise choice motivated by precise position in the relationship between character and actor.
I have always maintained that, I love to make films with non-professional actors, character, faces, and personalities, how they are in reality. I don't ever choose an actor for his skill as an actor, but for what he is, I chose Totò for what he is. I wanted a very human character, Neapolitan and friendly, so is immediately identifiable, at the same time I wanted this to be an average human being, "good person" also had something absurd, surreal, clownish, and I think that Totò happily have these elements.