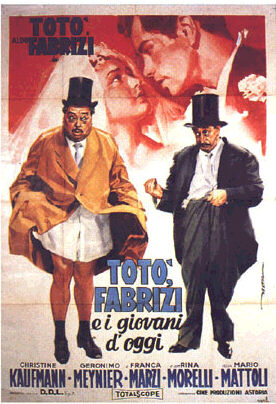 Film in B/N durata 91 min. - Incasso lire 460.000.000 (valore attuale € 9.814.049,58) Spettatori 2.747.915

"

TotÚ, Fabrizi and the young people of today

" 1960 of Mario Mattoli.

Subject and screen-play: Castellano, Pipolo; starring: TotÚ (the cavalier Antonio Cocozza), Aldo Fabrizi, Christine Kaufmann, Rina Morelli, Franca Marzi, Geronimo Meynier, Angela Luce, Luigi Pavese, Carlo Pisacane; production: D.D.L.

Starring: TotÚ (il cavalier Antonio Cocozza), Aldo Fabrizi (Giuseppe D'Amore), Christine Kaufmann (Gabriella), Rina Morelli (Teresa), Franca Marzi (Matilde), Geronimo Meynier (Carlo), Angela Luce (Angela), Luigi Pavese (commendator La Sarda), Carlo Pisacane (il nonno), Serena Verdirosi (sorellina di Carlo), Liana Del Balzo (zia di Gabriella), Esther Carloni (altra zia), Lella Fabrizi (l'ostessa), Nando Angelini (commesso), Mimmo Poli (tassinaro), Oreste Lionello (uno studente), Ughetto Bertucci (tipografo), Antonio Acqua (l'uomo che mangia i cannoli), Salvo Libassi (Rigolini).

Plot: Carlo and Gabriella meet in a public pool and they decide to get married although the incompatibility between her father (TotÚ), confectioner, and his, a civil servant. To speed up the marriage, the two kids pretend to escape and to expecting a baby. During the wedding day the two fathers' suits are exchanged and, after the umpteenth quarrel, go to the church to withdraw their consent, but they arrive late, when their kids are already married.
Film: TotÚ, Fabrizi e i giovani d'oggi
Review: Nobody thought that Mario Mattoli could make a good movie, not even him. This is the reason why we aren't surprised to see the usual TotÚ and the usual Fabrizi embroiled in a funny story where wisecracks are in half incomprehensible since everybody competes to shout more. L'Avanti, Rome, the 20th of August 1960.
The plot is the pretext to allow the verbal strife, often witty, between the two great actors. You laugh for their mime and their dialogues, always alive and amusing. TotÚ and Fabrizi are strongly committed and they entirely dispense their comic force. Corriere Lombardo, Milan, the 20th of August 1960.